Are you wondering if it is the perfect time to clean out junk now? Hoarding junk can take up a lot of space, creating a mess. And it's not just the mess you have to worry about; clutter is a recipe for trip and fall accidents and a haven for pesky pests. Furthermore, leaving clutter to pile up can make it labor-intensive and costly to clean up later. On the positive side, deciding to clean out junk now offers tons of benefits, and in this article, we'll show you six reasons. 
1. Clean out junk now for therapeutic purposes.
Having junk fill up your space can be draining physically and mentally. It can be quite hard to complete other tasks when you've got tons of unwanted items on your property. Decluttering and cleaning out junk now can be therapeutic, elevate your mood, and improve your happiness. 
Eliminating junk involves picking up stuff, packing, dusting, cleaning, and disposal of debris. These physical activities can trigger the release of endorphins, hormones responsible for alleviating stress and pain and improving your mood. Additionally, creating a clutter-free home is satisfying and creates more optimized space.
2. You'll make and save money.
You might have some valuable items inside your house if you're wondering where to find the next treasure to sell and make money. Finding valuable items lost in heaps of junk can be hard unless you purge through the trash. Cleaning out debris now is the perfect opportunity to find valuable items to sell. Sort through your items and determine things to keep, sell or donate. You can plan and host a garage sale or sell stuff online through sites like eBay, Facebook, or Instagram. 
How does cleaning out junk now save you money? Dealing with less trash is easier and less costly. You can DIY and might not need a pro to clean up your house, saving you money.
3. Creates clutter-free space for rearrangement
Do you need to create a home office, meditation room, or entertainment space? It can be a hassle to accomplish those goals when junk is in the way. Removing the garbage now creates space for rearrangement. Whether you need to renovate or redesign your room, it is easier when there is no clutter.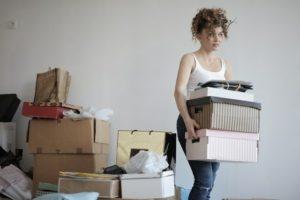 4. Cleaning out junk now boosts productivity.
Another reason to clean out junk is to boost overall productivity at home and work. Hoarding unwanted items can be distracting and ridiculously time-consuming. Removing the trash makes navigating your space more effortless, and finding stuff when needed is a breeze. 
Furthermore, a junk-free home boosts efficiency and encourages you and your family to spend more quality time at home. 
5. Clean out junk to improve your home's value.
Junk impedes traffic flow and makes a spacious home look crammed up, unappealing, and smaller. Removing trash now will make your space appear larger, more open, and more appealing. Disposing of debris is imperative if you're looking to sell or rent out your space. 
Additionally, a junk-free property gives prospects an impression that you've maintained your home and are willing to pay handsomely for it.
6. Cleaning out junk sets you ready for an easy move
Planning to move soon? The idea of moving houses can be stressful, and the actual moving day can be nerve-wracking. Another reason to dispose of junk is that it makes moving easy; you'll have fewer items to worry about and cut moving costs. Discarding garbage also makes packing and unpacking items easier, saving you time. 
Cleaning out junk now is an easy goal you can accomplish
Arizona Roll Off Services is at your service when you need junk removal services. Cleaning home trash can be labor-intensive and time-consuming; we provide dumpsters, 20, 30, and 40-cubic yards for any project situation.
https://www.arizonarolloffservices.com/wp-content/uploads/2018/06/AROS-logo-web.jpg
0
0
Maureen
https://www.arizonarolloffservices.com/wp-content/uploads/2018/06/AROS-logo-web.jpg
Maureen
2023-01-12 23:10:25
2023-07-27 11:00:01
6 Reasons to Clean Out Junk Now